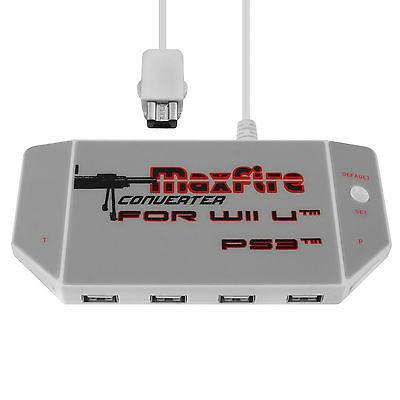 Maxfire FPS Keyboard and Controller Converter
Description: 
Maxfire FPS converter Features: 
-Compatible with Wii UTM and PS3 consoles. 
-You are able to set multi-key functions into one key. Simply click this key to execute the special game mode, like drop aim, drop shot, active reload, auto burst, etc. 
-Automatic matching with newer different type of mice and keyboards (wireless or wired), compatibility rate up to 99% 
-If connecting to the USB hub with 4 wired controllers plugged in, you are able to divide/share the controller's control command to the other 3 controllers. Supports up to 10 USB accessories plugged in, so you can share the controller's control command to your partners, friends or family. Have more fun! 
-It also works with single USB nano-receiver for both mouse and keyboard. 
-Compatible with Logitech G13 keyboard. 
-You are able to set the rapid fire function to the mouse, keyboard, and PS3 TM /360 TM wired controller. 
-Can map any keys from Xbox 360 /PS3 controller to any keys on the keyboard and mouse. 
-Compatible with most USB keyboard and mouse combinations. Those expensive FPS set-ups have not gone to waste! 
-Can adjust the mouse sensitivity from 2 extra wheels with 16 levels of adjustment for X and Y sensitivity to adapt perfectly to every mouse. 
-Instant plug and play technology 
-Ideal for use with all FPS titles such as all COD games, Black Ops etc. 
-Compatible with all PS3 games 
-Compatible with all versions of PS3 consoles (included PS3 Slim) 
-Super high sensitivity precision and smoothness 
-No need to connect to PC 
Ask a Question
---
QUESTIONS & ANSWERS
Have a Question?
Be the first to ask a question about this.
Ask a Question